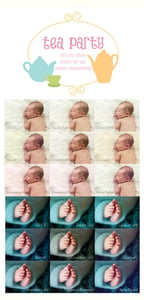 $

50.00 - On Sale
The Tea Party Action Set is designed to be your "go-to" editing resource for your newborn photography. Run individually or combined, each action can be adjusted to create your perfect newborn image.
Each set includes:
• Tea for Two (Including Tea Cup and Spoonful of Sugar adjustable layers)
• Warm it Up
• Add an Ice Cube
• Glass of Milk (Including Nonfat and Whole adjustable layers)
Biscotti
• Crumpets (Including Toasted, Burnt, and Butter adjustable layers)
• Strawberry Jam
• Raspberry Preserves (Including Very Berry, Tart, and Sweet adjustable layers)
• Cinnamon Stick (Including Sugar and Spice adjustable layers)
• Berry Parfait (Including Berries, Mascarpone, and Whipping Cream adjustable layers)
All purchases are digital downloads and therefore refunds will not be given. Please make sure that you are using CS2-CS5.
By purchasing this product you agree not to distribute, resell or share with others. Stealing makes me sad.